With the New Year just around the corner, it is a prime opportunity to mark down some events to attend in 2020. But as a self-respecting car geek, you must be familiar with the events like Amelia Island, Goodwood Revival and Festival of Speed, or Mille Miglia. Thus we will steer clear from the most popular happenings and provide you with a bit more left-field but equally exciting options.
St. Moritz RAID Winter. 16 – 19 January
St. Moritz is a world-famous mountain resort known for its eclectic hotels, SPAs, parties, and winter sports activities. The location is a hit with celebrities and intellectuals. It was the slopes of St. Moritz that James Bond skied down in "The Spy Who Loved Me".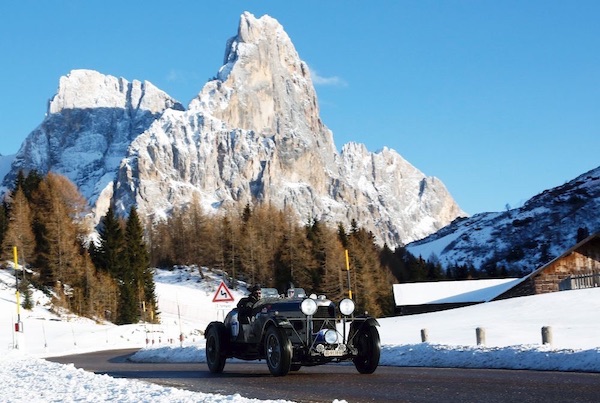 Top-down motoring in Alpine sunshine
The resort is also a popular destination for classic car aficionados, hosting several events every year. Its season starts with a RAID Winter classic car rally, where participants race for three days from St. Moritz through Venetian mountains to Mount Grappa. The rally starts and finishes in the alpine oasis that is St. Moritz.
Think of this rally as a lesser-known and cosier version of the Monte Carlo rally. Despite being smaller in size, it is just as exclusive. Feel like entering? Consider taking a Lotus Esprit S1 to channel that Roger Moore James Bond energy.
Retro Classics Stuttgart. 27 February – 1 March
A lesser-known and younger show than Techno Classica Esseno, Retro Classics Stuttgart will mark its 20th anniversary this year. With such a milestone, the show's curators promise a classic car super-show to kick off the exhibition season. The organizers are boasting it will have unprecedented variety so everyone can get their fix. We are talking about everything ranging from the pre-war veteran cars to so-called Neo Classics from the end of 20th century. The spectrum will range from purpose-built race cars that dominated the tracks of yesteryear to historic commercial vehicles.
Amidst the variety of the historical, focal point of the show will be Roald Goethe's personal Gulf racing car collection and a line-up of 18 rare pre-WWII luxury cars from a French automaker Voisin.
Tour Auto Optic 2000. April 20 – 26
Despite running for more than 50 years, it does not have a cult following outside its home country. The French event gets the name from its distance – the race covers more than 2,000 km. This classic car rally starts in Paris and winds all the way down to Marseilles. Over the five days, it visits Nevers Magny-Cours, Charade, Albi and Ledenon circuits, as well as hosting a number of road stages.
This year's theme is Porsche prototypes, so the roster contains a 550 Spyder, a couple of 356 Carrera Abarth (yes, Abarth) as well as later racers like 907 or 910.
If for some reason Porsche is just not your thing, there are going to be plenty of other noteworthy contenders. To name a few – Mercedes-Benz 300 SL, Citroen SM, Ferrari 275 GTB and others.
It may be complicated to follow the whole race, but heading down to southern France in spring to spectate some classic race cars is a perfect holiday getaway in our book.
Trans-Am Speedfest. May 1 – 3
If you are bummed out to be born too late to witness the Trans-Am series in all its glory, worry not. Every year, the Laguna Seca is home to a convincing reenactment of the era – Trans Am Speedfest.
With a modern-day race hosted on the same occasion, it is not strictly a classic car event. But Trans-Am Speedfest pays homage to the historical roots of the series. Brought there by the Sportscar Vintage Racing Association, last year all of the usual suspects from Detroit Big Three were there against the period rivals from Europe and Japan. Crucially, to qualify the cars from different periods must be authentic to the time that they were originally raced in.
This year's event should be no less thrilling. The Californian circuit with its corkscrew corner is a suiting setting to let these classics run loose, and spectators ogle and admire. You can get your tickets now.
AvD Oldtimer Grand Prix. August 7-9
It is unbelievable how this event does not receive more press coverage – bringing over 500 race cars to arguably the most significant racetrack on Earth – Nürburgring. Formulas and GT cars from the 1950s to 1980s are represented, racing through the Green Hell.
The cars will be put through their paces, including a 3-hour endurance race, 1961 GP revival and 100-mile trophy. The organizers promise that the action will not be contained on the track alone – in the paddock, there will be autograph sessions and interview rounds with the motorsport's greats.
Still not convinced? Maybe the video from last year's event will help to sway your opinion.
Hopefully, this piece will inspire your calendar for the upcoming year. Make it your new year's resolution to see more classic cars, listen to their engines, and smell the gas and excitement.
---
Find your dream car among our Car Categories!